The Golf & Lake Resort "Kaszubska Ostoja" is built in one of the most beautiful holiday regions in Poland:
In the north-west of Pomerania, nestled in a largely untouched nature, equipped with everything that makes the stay pleasant and varied throughout the year, a holiday house resort emerges of the absolute extra class!
INFRASTUCTURE AND ATTRACTIONS
SPA & Fitness Center
Indoor swimming pool 8 x 20, sauna and gym for a comfortable stay all year round
Service building & conference room
with a small conference room and a guest house with 15-20 rooms for events in the village
Reception 24/7
will provide guests with service and control the infrastructure of the village
Barbecue, campfire
Zone for barbecues and bonfires, which could be organized in the evening
Restaurants and market
traditional Polish cuisine, markets and all necessary facilities
Zoological Garden
Zoological garden with exotic animals
Golf Academy & Outdoor Activities
20 hectares of extra quality golf field will be located next to the village
Horse Ranch & Riding School
is just 1 km from the project with an outdoor arena and 20 acres of the playing field
Aviator village
come by plane and park it in front of your house just 8 km from the project
LEISURE & ENTERTAINMENT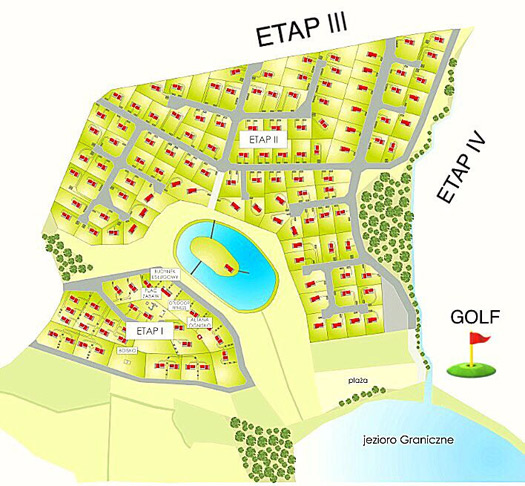 Click to enlarge the image!
In four construction stages, we are building high-quality, country-typical holiday homes on a total area of ​​approx. 50 ha. All offered houses are built from high-quality materials and offer a stable holiday home for the future.
The holiday home resort has a play area and barbecue facilities, including a horse farm and a hotel with a spa.
On an area of ​​approx. 20 ha, a golf training area with a golf academy will be built.
Golfing, boating and fishing, swimming, Nordic walking, biking, kayaking are all examples of outdoor activities available to guests of the resort. In the evening you could spend time with family or friends around the campfire in peace.
In addition to a bathing lake, artificially created in the holiday house resort, a broad sandy beach and a long, private bathing jetty are laid out on a natural lake surrounded by forests.
The beach and swimming area on the lake are available to guests in the summer. In the fall you can pick mushrooms and all year fishing and hunting is possible.
Phase 2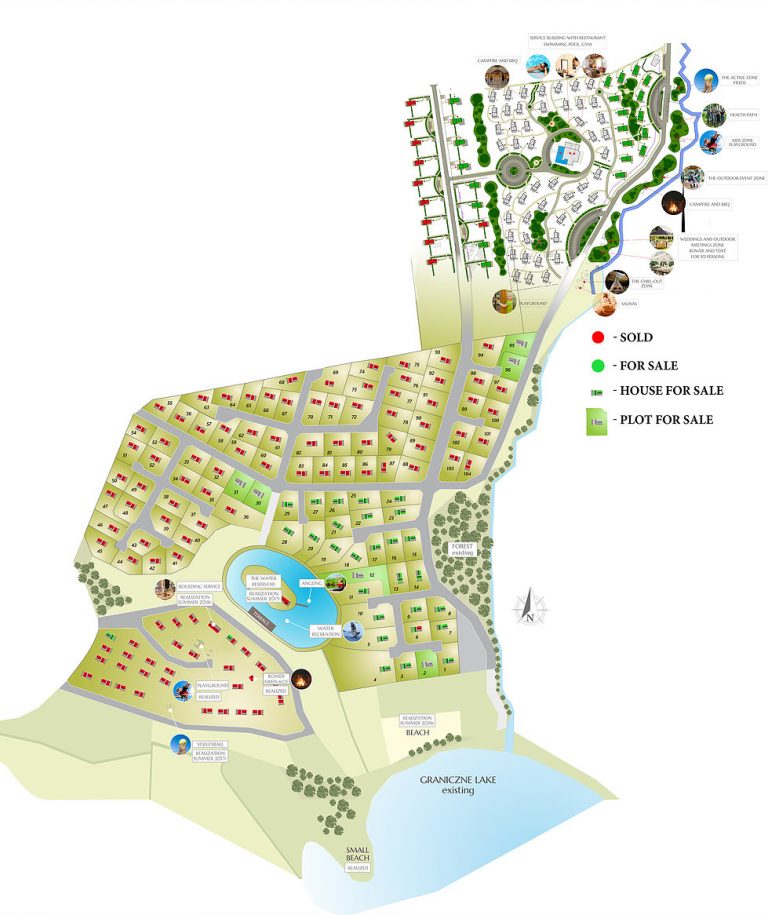 Phase 3